MCN2015 was incredible. One of those life-changing, affirming, provoking sorts of days-long affairs that left me hoarse for a week after. No, really. I talked so much in Minneapolis I lost my voice for several days. There's much unpacking to do, but first I have a promise to fulfill…
Buzzwords: Content, Digital, Engagement
Jennifer Foley, Director of Interpretation, Cleveland Museum of Art, Jeffrey Inscho, Innovation Studio, Carnegie Museums of Pittsburgh, and I ran a session called "'Content' and its discontents" which investigated questions and issues around the language we use when communicating our work. The panel also examined why talking through the semantics of what we do is more than just semantics, but has real impact on the meaningful subject matter museums create. Specifically, we looked at three rampant buzzwords; content, engagement, and digital.
Given my obvious fixation on the word "digital", I led the breakouts on coming up with answers to the question, "What does 'digital' mean to you?" The 40-odd museum professionals at the session generated a ton of answers and engendered some great conversation. The results covered several sheets of butcher's paper, and we promised we'd get them typed up and posted for participants to see.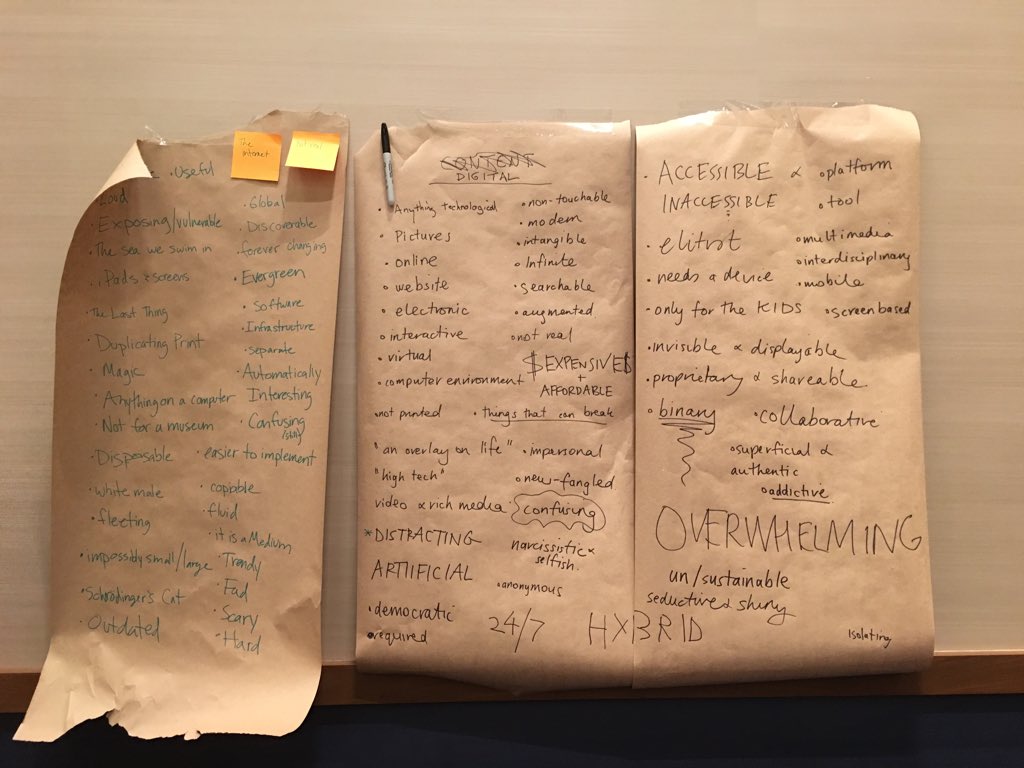 Thanks to my intern, the marvelous Meike Gourley, the 'digital' sheets are transcribed and legible. It's also worth looking at the results of Jeff's "content" group, and Jennifer's "engagement" group, to see how differently the three words resonated with people who use them all the time. Discussion follows the list below.
Opposing Binaries
Accessible / Inaccessible
elitist / Populist
invisible / displayable
proprietary / shareable
Superficial / authentic
un/ sustainable
"The Future" / "Legacy"
Permanent/ Temporary
Isolating / Connected
impossibly small / large
$ EXPENSIVE $ / AFFORDABLE
Schrödinger's cat
Human – made / automatically
Audiences
only for the KIDS
millenial
Community Building
Geek/Popular
democratic
narcissistic and selfish
impersonal
white male
global
trendy
Pejoratives
needs a device
addictive
OVERWHELMING
seductive and shiny
Inorganic
"when you don't know what else to call it"
DIGITAL (not real)
DISTRACTING
ARTIFICIAL
not real
confusing
anonymous
exposing/ vulnerable
not for a museum
disposable
fleeting
outdated
confusing (still)
fad
scary
hard
loud
Trivial
non-touchable
intangible
things that can break
new-fangled
Complimentary
open
Expansive
Multisensory
Mutable / Mute-able
immediate
useful
the sea we swim in
magic
discoverable
forever changing
copiable
fluid
evergreen
collaborative
interdisciplinary
immersive
Adoptable
Adaptable
Dynamic
Engaging Content
required
modern
infinite
searchable
augmented
interesting
easier to implement
24/7
HYBRID
Descriptive
binary
Organized, a system
Networked
Downloadable
Portable
mobile
electronic
interactive
virtual
Intangible
multimedia
Screenbased
online
it is a medium
platform
tool
(The internet)
i Pads and screens
website
pictures
computer environment
video and rich media
software
infrastructure
Other definitions
separate
not printed
the last thing
duplicating print
anything on a computer
Anything technological
So what does it mean?
Well, a lot, it seems! It was fascinating to see how schizophrenic and polarizing the answers to the question were. The number of answers that contradicted other answers is pretty telling. It will be interesting to see how it stacks up against "content" and "engagement".
What things strike you about this list?
UPDATE: Here's Jennifer's take on the session and "engagement". Go read it!